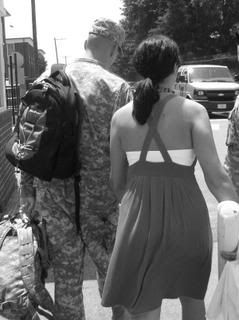 "The toughest years in a military marriage normally come after the wedding"

This life sure isn't the easiest to life but God created the strongest women and made them Army wives for a reason. I fully support my husband and his job and will go to the ends of the earth with him. I feel like we both signed a contract with the Army and while mine isn't legally bonding, I feel it is as much my duty as his to do my duty and serve the home front while he's away.

Our journey with the Army started before he put a ring on it. When I met Bubba, I was a senior in high school, a little rebellious, and in need of a superhero. Bubba was just that for me. He had already enlisted but was delayed due to a serious car accident (he went through the windshield of a work van). At that point, the Army was the last thing on my mind but after I left for college in the fall, his wrist healed and while he could have taken an easy out, he felt a responsibility to fulfill his original contract. October 27th, 2005 was the beginning for me. I took the rule of a then military fiancee and wrote him every day while he was in basic. I still have every letter I sent him and every letter he sent me. I took both possible trips for a family day and his Turning Blue and Graduation ceremonies. During airborne school, he injured himself and his hold would have been months. Without airborne school, his original duty station would be out of the picture. He was sent to Fort Myer, Virgina: home of The Old Guard. . He served there for 3 years including a 15 month deployment. When he returned home in June of 2008, two months later we were expecting our first miracle. Myer is right outside DC and really no place to raise a child, so when my husband had the opportunity to re-enlist (his original plan was to fulfill his 5 years and get out) he re-enlisted to go be part of the 101st. The unit is full of so much history and it was where his friend, John Sigsbee, served. Sigsbee was killed in action in Iraq in January of 2008. Soon after we PCSed in October 2009, Bubba deployed to Afghanistan.

The hardest part of being a military wife, in my opinion, is basically being a temporary single parent. I hate that my husband misses out on such big moments in our son's life. He has changed so much in the last few months I know its going to be a shock on R&R when he comes home to see his baby boy he left is now a walking, talking, attitude-filled, toddler.


Most importantly, I don't use my blog as a "woe is me" blog. I try my hardest to keep a positive attitude. Deployments aren't easy but I signed up for it so there's no use in crying over spilled milk.