I was not one of those lucky ones who "bounced back" after giving birth to my son in April of 2009 (even though EVERYONE told me I would). Whether it be the enormous amount of stress I was under last summer or just lack of motivation/time to get to the gym, I wound up losing then gaining back.

Once my husband deployed, I said "That's it". I hated the ways my clothes fit, I hated the little something extra I had up front and how my arms looked. I have never been out of shape before. I was an athlete in high school and prided myself on being a gym rate PB (pre-baby). How had I lost so much of who I was? Easy answer: I was no longer the single, free Andrea. I was the married with a gorgeous little boy Andrea. Life is all about gives and takes. I gave up my body for the most wonderful thing ever. And I certainly don't regret it. But I won't take no for an answer.

Once I moved back, I started eating a lot better. My husband isn't known for his excellent eating habits so it was much easier to avoid the junk food being in my super healthy parents house. Shane also started moving around a lot more so I was trying to keep up with him. Before I knew it, I was down 15 lbs. I thought I'd be happy with 15 lbs gone since that put me at pre-baby weight, but I still didn't feel healthy.

My Work-Out

Mid-June I found a blog and this new mommy was beginning the Couch to 5K program




Let me just tell you, I am in now way shape or form a runner. I played basketball in high school so my running was limited to up and down a court. But this program has made it so easy to get into running. It paces you so you don't overwhelm yourself and get unmotivated. I look forward to my running days now! I am lucky enough to have the iPhone which has an amazing app that tells you want to walk/run and I can listen to music at the same time.

I also love Jackie Warner. She is a trainer to a lot of celebrities and her method is based on circuits and a "power burn". Her 15 minute videos focus on each target area and she is quite a hard ass.





My other new obsession is the Bosu ball. My mom got one for Mother's Day and it came with an awesome workout DVD. They have a long and lean program I do 2 times a week which is basically yoga poses with the Bosu. The ab workout is KILLER and I wind up yelling at the instructor the majority of the time. I have seen great results in my toning in just the few weeks I've been using this.





PROGRESS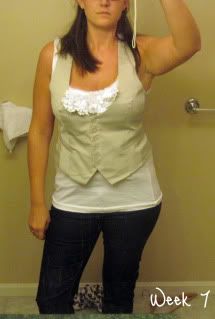 FOOD

I have been blessed with not a huge sweet tooth so I am lucky I haven't gotten mixed up with chocolate but I do love salty items. To try and curb those cravings, I like to do veggies with hummus.




I also LOVE pizza but instead of ordering out a greasy pizza, my mom and I make our own at home and pile veggies on top of a whole-wheat dough and use low-fat cheese.




I am on a big protein kick as well and who wants to eat meat all day to get that needed protein to repair muscles? Chobani is delicious! 14 grams of protein in a cup of yogurt and only 140 calories! The protein in it really fills you up so I can get away with a yogurt and big glass of water for lunch most of the time. I love the pineapple and pomegranate!




I have completely given up caffeine and carbonated beverages as well as most alcohol. I have noticed SUCH a difference in my energy levels and skin since I stopped taking in 2-4 Diet Pepsi's and regular coffees a day.

I will try to continually post recipes for healthy alternatives since I know many of you are on the same journey as I am! Here is one of my newest obessions!

Strawberry Poppyseed Salad




What's in it:

Low cal/light Poppyseed dressing
Strawberries (preferably fresh)
Toasted or raw almond slivers
Celery (Sliced thin)
Red onion
Red leave lettuce (hand shredded)